Transform Your Data Chaos into Insights
elluminate® is clinical trial software that makes your job easier - a powerful clinical data hub providing data visibility, traceability, transformation and clinical data analysis
Integrated products, one easy to use platform
Since 2012, elluminate has been helping life sciences companies seamlessly integrate and unify all their data sources - including EDC, eCOA and labs - for streamlined clinical data analysis and review, exploration and new data insights.
Transforming data transformations, elluminate Mapper provides tremendous power, automation and access to all data ingestion and mappings tasks – without programming 
40+ visualizations including support for your data review objectives and operational analytics for proactive trial management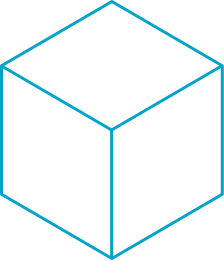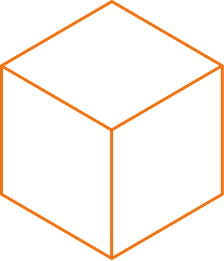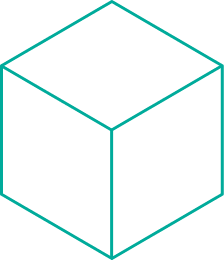 All your data from every source in one place for review, queries, patient profiles and issue management
Leveraging the power of elluminate to provide you with insights across data sources to identify, track and mitigate operational risks
elluminate Implementation
The elluminate implementation team focuses on ensuring clients maximize the value of their clinical trial software investment quickly. Consultants use in-depth drug development knowledge and clinical data analytics expertise to facilitate elluminate rollout, training and adoption.
elluminate® for Every Team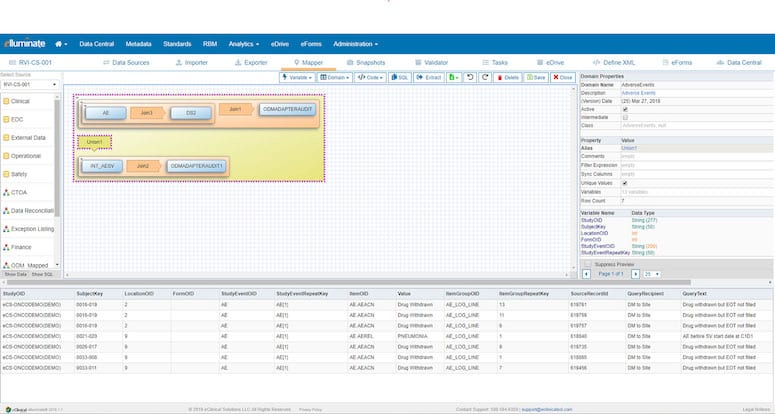 Automating the Data Transformation Process: With elluminate Mapper, users perform complex transformations through a visual interface, turning disparate data streams into submission-ready CDISC SDTM and analysis datasets. SDTM and reporting transformations can be accomplished by less technical resources and data can be explored, combined, curated and published.
Drag-and-drop interface for non-programmers
Dynamic templates that map data upon import
Automated standards checking and full compliance, including audit trails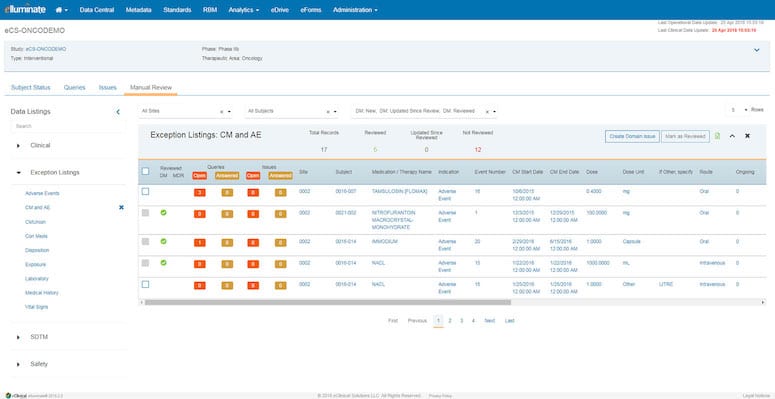 Comprehensive Data Review: elluminate Data Central brings together all the data associated with your clinical trial into one integrated platform for data review and management — from any data source. Data managers and medical reviewers can collaborate to quickly and effectively manage study data, resolve queries and track data issues. The results are high-quality databases for analyses and submissions.
Integrated data review from all sources 
Actionable analytics software supporting review, e.g., patient profiles, medical data analysis
Role-based reviews, workflow and issue tracking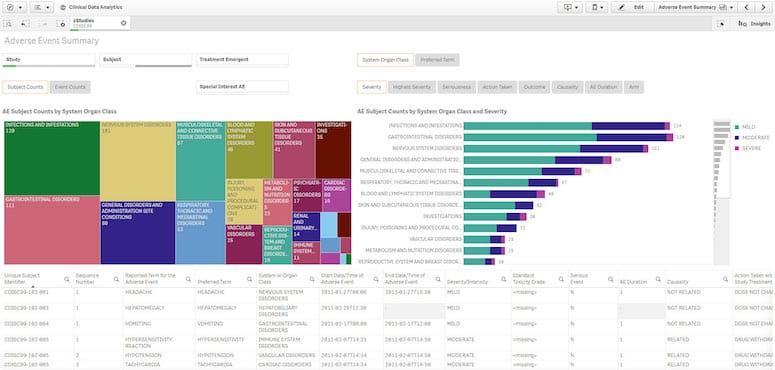 Meaningful Analytics that Accelerate Timelines: All your data in one platform means you have analytics that answer all your questions, without requiring your teams to check other sources. The result is accelerated timelines, faster insights and rapid identification of data issues. 
40+ out-of-the-box analytics 
Visualizations designed to support data management, clinical operations, and medical review/safety
Self-service access to all study data and ad-hoc analytics 
Guided Data Story and snapshot creation 
Operational metrics and predictive insights 
Unified, Data-Driven RBM: elluminate Risk Based Monitoring provides clinical operations teams with a single platform to transform numerous study data streams into actionable analytics. The result is a more focused and data-driven clinical monitoring effort that enables sponsor oversight and improves quality and compliance. 
Comprehensive Risk Profiles and KRIs by Site 
Rapid implementation built upon elluminate platform, with ready access to data 
Impact analyses over time showing results of identified actions
Automated Integrations with All Your Data Sources
Easily integrate with your
existing data sources
elluminate provides automated integrations out of the box with the Medidata Clinical Cloud and numerous other MDR, EDC, eCOA, Lab and IVRS systems. Flexible APIs and Web Services enable easy data ingestion and extraction to other data environments.
Data import from any source and format
Two way integration with Medidata Clinical Cloud
Import source data automation for standardization and consistency
Data extraction layer for easy export to other systems
Frequently Asked Questions
This sounds too good to be true, does this really work?
Yes, it does! The eclinical platform elluminate is designed to make your job easier. Let us show you how in an elluminate demonstration
elluminate is a cost-effective SAAS product and typically includes a monthly user license fee, support and an initial implementation and setup fee. There is a comprehensive set of training courses included along with 24×7 end user support. elluminate delivers value to clients by providing increased control over, and direct access to, all of the data from disparate sources being collected in clinical trials. End users who were formerly disintermediated from their data and had to rely on clinical programming teams for high quality analyses and reporting gain self-service access to curated data sets, saving both time and money. A detailed ROI model is available demonstrating how elluminate saves costs based on the products utilized and the number of ongoing and archived studies included.
Is this truly self-service?
The elluminate platform is dedicated to providing clinical researchers with self-service access to their data and self-service is one of the key themes used to govern elluminate product development prioritization. In Analytics, end users can copy and save worksheets to explore data and even create their own app from a variety of different data sources, according to their permissions. elluminate enables clients to determine the types of data access and permissions that are provided to different types of users, roles and groups to ensure the organization's optimal level of self-service access to different data stores and analytics.
Will this work with my existing platforms?
elluminate is a flexible platform that fits within existing clinical technology ecosystems. As a clinical data repository, elluminate is designed for rapid data integration. elluminate gracefully coexists with many other eclinical platforms and has an out of the box, two-way integration with the Medidata Clinical Cloud. Data from many other systems including MDR, EDC, safety, eCOA, IVR, Labs, Omics, Biomarkers, eSource and physiological sensors have been successfully integrated into elluminate. Clients can also leverage elluminate for external data sources and combine that with EDC data for analytics and review, as well as data exploration and curation via Mapper.
How do I know it is it compliant and secure?
elluminate is fully compliant with 21CFR Part 11 and ensures data privacy and security in accordance with global regulatory requirements. elluminate has a flexible permission architecture allowing limited access to certain types of data as required per client SOP. As a proven system in use for clinical data since 2012, elluminate has been used to prepare data for numerous regulatory submissions that have received approval across therapeutic areas.
Will we be able to get immediate value out of this?
Yes. As a cloud based system, elluminate can be deployed rapidly to ensure maximum value. The typical implementation and rollout takes a phased approach by identifying key value drivers elluminate can deliver for specific roles and functions, and implementing the platform to those groups while measuring success and satisfaction in the process. The goal of the elluminate delivery team is to provide clinical software solutions by ensuring clinical teams achieve their business goals with high volume and adoption in the least amount of time.
How long will implementation take?
elluminate's software for clinical trials is designed for rapid implementation. A typical elluminate implementation takes 90 days which may include putting archived, new or ongoing studies into the hub. The implementation process includes defining the key value drivers of the system for the client, the data sources that will be included, and preparing and standardizing data. elluminate includes a validation accelerator package that provides a risk-based approach, as well as test scripts and documentation to facilitate the internal validation process. Implementation consultants guide client teams through the process, focusing on the capabilities that will maximize value to client stakeholder groups. End users are fully trained and prepared for elluminate adoption and rollout.
elluminate is easy to use and is designed with the workflow of data management, clinical operations, and medical review of biostatistics in mind. The primary objective of elluminate Mapper is to make data integration and mapping easier for non-programmers. Data Central is designed for significantly more efficient and automated data review by data managers and medical monitors. The visualizations in elluminate Clinical Analytics are intuitive and flexible, linking to issue workflow so teams can act upon data insights in real-time. The eCS professional services team uses elluminate on every engagement to deliver high quality data services  to clients, and internal power users provide continuous feedback and suggestions so that enhancements always have end user goals in mind. elluminate includes role-based training guides and videos along with best practices to ensure users are up to speed quickly. 
elluminate is a proven platform that has been used by Life Sciences companies since 2012. Currently, more than 50 clinical development organizations of all sizes rely on elluminate to regain control of their clinical trial data. Critical data assets across thousands of studies are currently being stored in the elluminate platform for both ongoing and archived studies, providing researchers with new clinical and operational insights. Studies using elluminate for clinical data review, management and analysis have been submitted to regulatory authorities and approved, and SDTM data that was produced with elluminate Mapper has been used for FDA submission.
elluminate scales effectively and leverages cloud-based processing power to ensure high performance for users independent of the volume of studies or the number of users accessing the system. elluminate uses a modern technology stack to ensure users experience optimized performance and visibility to their clinical data at all times.
Will people actually use it?
End users from Clinical Operations, Data Management, Medical Monitoring, Biostatistics and Clinical Programming enjoy working in elluminate as it provides them with immediate value, time savings and streamlined workflows. elluminate provides clinical teams with one source of truth from which to work, eliminating the need for numerous excel trackers that tell different stories and require rework and reconciliation. The eCS Data Services team user elluminate across all client trials. elluminate is designed for maximum ease of use by clinical teams.
Ready to revolutionize your clinical data management?