Introducing elluminate COVID-19 Analytics
Recorded Live: Wednesday, April 8, 2020
New elluminate Offering
Real-time Patient Safety Indicators and Visit Forecasting for Proactive Oversight of the COVID-19 Pandemic Impact on Your Clinical Trials

eClinical Solutions has recently developed elluminate® COVID-19 Analytics based on industry and client feedback to help sponsors manage the impact of COVID-19 on their ongoing trials. These analytics provide trial managers with the real-time clinical and operational insights needed to proactively manage the impact of COVID-19 on patient safety and data quality. elluminate COVID-19 Analytics will also help increase oversight and regulatory compliance with recommendations made in the recent FDA Guidance on Conduct of Clinical Trials of Medical Products during COVID-19 Pandemic.
In this webinar you will learn how elluminate COVID-19 Analytics:
Proactively Mitigates COVID-19 Risks on Your Trials
Improves Oversight and Regulatory Compliance
Can be Rapidly Implemented for Ongoing Trials
Visualizations show you which patients and sites have the highest virus-related indicator scores, and visit forecasts allow you to focus your time time where it is needed most, first. Filtering includes subject populations at-risk, based on age range and immunocompromised status.
elluminate COVID-19 Analytics Standard Visualizations include:
Visit and Dose Trends and Forecasts
Visit and Dose Cumulative
COVID Indicators
Off Study and Disposition
Adverse Events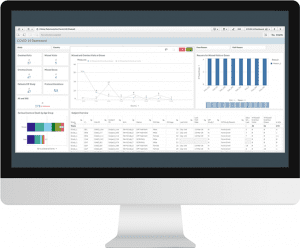 We invite you to join our Vice President of Product Management and clinical data strategy expert, Robert Musterer on Wednesday April 8th at 11 AM ET / 8 AM PT for an overview of this expanded offering. He will share the benefits and demonstrate the out-the-box visualizations of the COVID-19 Analytics solution during this live 1-hour webcast that will include Q&A.
About elluminate
The elluminate Clinical Data Platform is a cloud based enterprise software platform that makes clinical data acquisition, mapping and analysis easy and intelligent for clinical teams. More than 100 life sciences companies have used the elluminate platform and software enabled services from eClinical Solutions to regain control of their clinical trial data.
Presenter
Vice President, Product Management, eClinical Solutions
A life sciences industry veteran and clinical systems expert, Rob Musterer has over 25 years of experience in clinical programming, biostatistics and data management in large pharmaceutical companies including Bayer Healthcare and Schering-Plough Pharmaceuticals. Rob most recently served as President of ER Squared, Inc., a life sciences consulting firm with an e-clinical focus. Rob began in pharma as a data manager. Seeing possibilities to improve the model, he engaged in early deployments of electronic data capture (EDC) systems and championed the change management required to adopt EDC. Rob has dedicated his career to helping the life sciences industry obtain greater time-to-value from their solutions and break from historical clinical research processes through innovation. His expertise extends far beyond EDC and includes data management services, clinical trial programming, data repositories, data visualization, clinical trial management systems (CTMS), standardization, validation and more.